Flags are ordered and on the way to my house, stickers are here, destinations are picked and being reviewed, riders are signing up at a very nice rate – all systems are go! We are planning to ship your rally materials at the end of February, and the full destination list will be posted on this website (in the rider resources section) at the end of February, too.
So now that a lot of the heavy lifting is done, let's talk a little about how to take a good picture that will show us you were at the right spot! Our thought process on reviewing your efforts will center on giving the benefit of the doubt to the rider. In short, your submission DOES NOT have to be an exact picture match to the sample we provide. It should capture enough of the object shown in the sample to allow us to know you were at the right place.
You must ride a motorcycle to the destination. The bike does not have to be the one you gave me during registration – I only asked about it out of curiosity. How can we be sure you travelled by bike? Your ride and the flag must be in your submission photo. This is really the only absolute we have at this time. No flag, no credit. No bike, no credit.
So what is the best way to make sure you can get a good picture? There will be challenges. The flags are good quality, but they will get blown around by the wind. It is useful to have some way to attach them to your bike for the picture. I have used a bungee cord, chip clips, cloths pins and other methods. Some have found creative ways to attach the flag to a cloths hanger. There is no one-size-fits-all solution to this, but the problem will most certainly present itself to each of us over the next several months.
I like to position my bike so that the bike is between myself and the object I am trying to photograph. I have had good success attaching my flag to both windshield and trunk. A couple examples are included below. I have worked hard to find locations that will allow for this approach while also providing options to keep yourselves safe. Unlike the Tour of Honor, none of our locations will require multiple pictures. There is one location planned that is a short walk (like 25 feet) from a safe parking area, and for that one I elected to not require your bike in the picture (you still have to ride to the destination). Read the notes for each destination for specific guidance.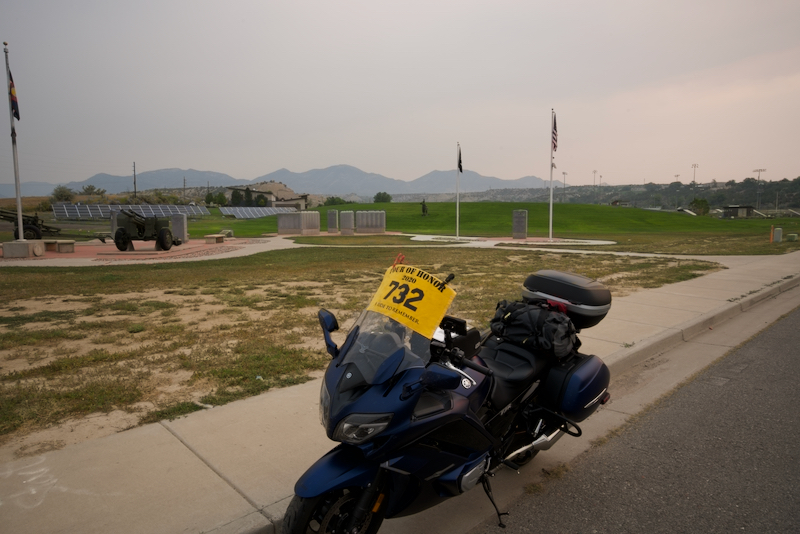 Questions? I anticipate there will be some coming our way. Let's get them out there and answered as early as possible. You will have your flags in early March (mailed at end of February) so there should be plenty of time to practice the best way to position the flag on your ride before the rally starts on April 1st. You can ask questions by leaving a comment at the bottom of this post, by using the contact form on this site or by sending an email to pnwgrandtour@gmail.com. I will answer as time allows and consolidate info on the FAQ page.
Our goal in getting this out to you is to improve your enjoyment by reducing your frustration. Practice a few before hitting the road. Send us a picture of your bike with the flag – we enjoy the bike pictures!
Feel free to practice taking pictures and even send them in to the email – pnwgrandtour@gmail.com. We will ask you to include your rider number and destination code in the subject line (your submission will not be rejected if you forget – it just makes it easier for the scoring team members). For example – your email subject line might look something like these examples (info in parenthesis is not required, only provided here for descriptive value):
001 WA1 (Rider 001 at destination WA1)
Rider 001 at WA1
Tim Allen 001 at Forks (WA1)
001 Forks, WA
As you might imagine, the options are fairly extensive. The important bits for the scorers is the rider number and destination.
Finally…no destination teaser this week, but I do have a sneak peak at what our flags will look like this year 🙂