Business first…
We learned something about the scoring system this week. The system we have set up only recognizes one image from any email you send, so if there are multiple images, the scoring team doesn't see them. How does this affect you? If you send us an email with two (or more) pictures, we might see the one of the lakeside picnic and not the one with your bike and flag. How do we prevent this? Send your best image by itself to the scoring email and let us handle the rest 🙂
We do enjoy seeing the pictures of other interesting stuff, just not with the picture you are sending in to get scored.
We finally got a couple days of nice weather over the weekend and many of you made it out to enjoy it. I enjoyed the drone videos that Robert Bowman (rider 65) posted on the Facebook page for a few of his visits – head over and take a look. I also had the pleasure of bumping into (figuratively) Debi Lovelace (rider 55) at the Moscow cemetery location. It is always fun to see people out enjoying our beautiful area of the world. Snow is slowly melting and some of the locations at higher elevation should be available in the next several weeks I would think.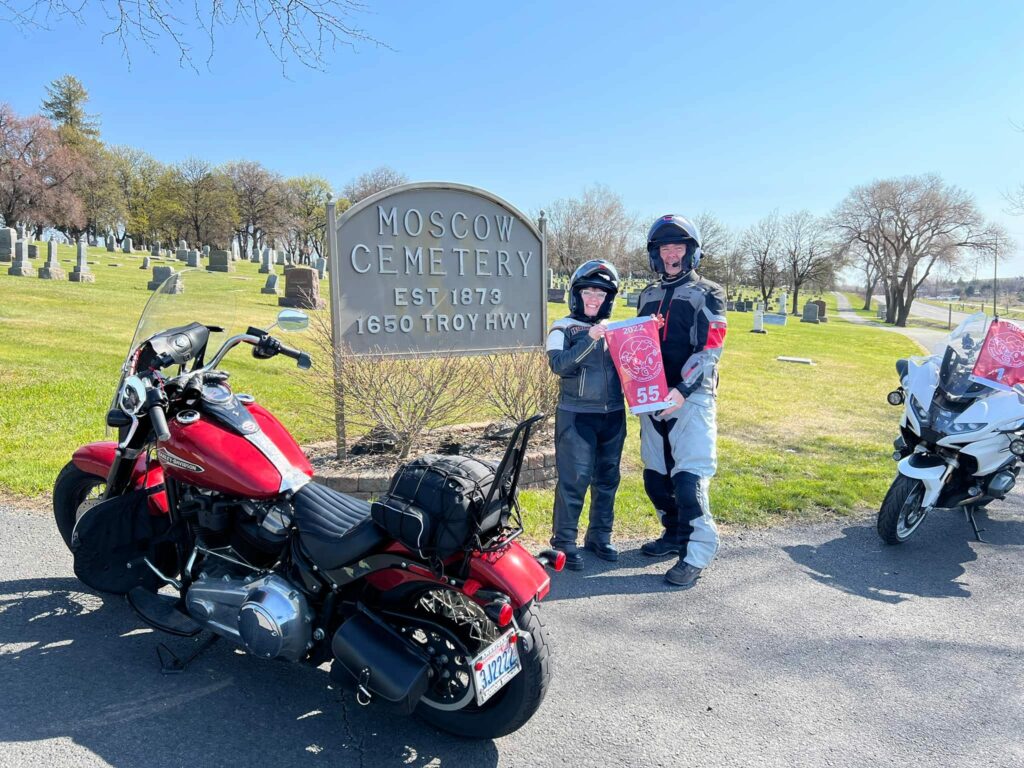 GT09 (Bluebird Inn) seemed to be a popular place for riders this weekend. Maybe it was the recommendation from Dale Wilson (rider 361) about the bacon cheeseburger…it was delicious!
Totals for the rally so far:
Riders with at least 1 visit – 63 (10 new this week)
Total number of visits – 120 (35 this week)
Washington locations have a commanding lead right now with 70
Montana still isn't getting any love. Maybe someone has one of those cool snow machine conversion kits for their dual sport bike laying around?